FREE TAPE ART WORKSHOP
WOW what an amazing day had by all… even if we do say so ourselves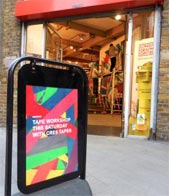 We hosted a FREE tape art workshop at London Graphics iconic store in Covent Garden as well as commissioning talented international tape artists TAPE THAT to cre8 a unique tape masterpiece.
We used our exciting range of tapes… different colours, sizes, textures and materials to get people inspired and it worked!! Children and adults got stuck in and created some amazing pieces of tape art.
For some it was their first time and they absolutely loved working with tape because of the ease of use and range of possibilities… there were stensils giving people the chance to recreate iconic faces and so many colours, sizes and textures for people to create exciting abstract patterns.

At the same time, the amazingly talented Tape That were creating their masterpiece on the large billboard in the entrance to the store, this piece is bright and striking, generating lot of interest as people were coming in. So many people stopped to look, take pictures and chat to the artists.
We've got a really good relationship with London Graphic Centre and are so pleased and proud that they wanted to collaborate with us to get this amazing tape art commissioned. Tape That loved their time in London and were as pleased as us with the finished result, go check it out for yourself you won't be disappointed and while you're there, you might even pick up some CRE8 tape and have a go yourself!
We're so happy with the success of this project that we're hoping to commission more tape art in London and hold more workshops, we think everyone should give it a go and let their imagination unwind…